Book Project
Varieties of Globalization: Localization Foreign Capital in the Chinese Auto Industry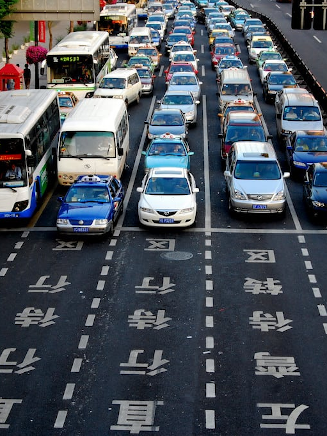 How does an emerging economy like China resolve the conflict between its long legacy of heavy state intervention with the strictures of the WTO? To what extent is the Chinese central government willing and able to create a rule-based economy? How effective are international agreements and multinational corporations in promoting liberalization in emerging economies such as China? What does this tell us about emerging economies' level of compliance with international legal agreements amidst their fragmented economic structures?
---
Articles
"Blown Away: How China Outsmarts WTO Rulings in the Wind Industry". Asian Survey, vol. 55, no. 6 (November/ December 2015), pp.1116-1145. –PDF Version
Through a study of China's wind turbine sector, I demonstrate how China liberally implements industrial policies and then removes them after the WTO disputes them—a strategy I characterize as "convenient compliance." This strategy reflects Beijing's realpolitik navigation through the WTO's dispute resolution process rather than socialization to international norms.
"Shifting Gears: Industrial Policy and Automotive Industry after the 2008 Financial Crisis". Business and Politics, vol. 16, no. 4 (December 2014), pp. 641-665. –PDF Version
Apart from being one of the hardest-hit sectors during the 2008 financial crisis, the auto sector is also a prominent sector where emerging auto markets such as China have fared relatively well compared to their competitors in North America and Europe. This paper examines various ways that nations have shifted their policy gears to revive and restructure the automotive industry by using the case studies of the USA, France, and China. New sets of policy initiatives are contingent on particular industrial and institutional contexts, but both developed and developing countries have employed a wide range of "murky" protectionist measures. This makes it unlikely for the WTO member countries to take a naming and shaming approach and file a case at the WTO level, which poses challenges to the WTO rules and trade liberalization.
"Fragmented Liberalization in the Chinese Automotive Industry: The Political Logic behind Beijing Hyundai's Success in the Chinese Market". The China Quarterly, vol. 216 (December 2013), pp. 920-945.  –PDF Version
This paper explains the extraordinary rise of the Beijing Hyundai Motor Company (BHMC), a joint venture between a state-owned enterprise run by the Beijing Municipal government and Hyundai Motor Company. Within the span of three years, the BHMC soared to become China's second-ranked automotive manufacturer in terms of units sold. I highlight the role of the Beijing Municipal government in creating favorable market conditions for the BHMC during its initial operation phase (2002–2005). The Beijing Municipal government selectively adopted protectionist measures and liberalizing measures to promote its locally based company. I characterize this practice as fragmented liberalization, a system through which sub-national governments discriminately apply WTO or Central government regulations to promote their local joint venture partner. In so doing, I also challenge the existing assumption that multinational companies are the drivers of economic liberalization, by showing Hyundai's support for local protectionism and industrial policy at the sub-national level.
"The Political Economies of Broadband Development in Korea and Japan" (with Kenji Kushida). Asian Survey, vol. 47, no. 3 (May/June 2007), pp. 481-504. –PDF Version
South Korea's and Japan's telecommunications sectors developed rapidly, especially in high-speed, low-priced broadband. We argue that both countries are engaged in strategic liberalization, fostering competition to reach specific goals. However, different political dynamics pushed their initially similar policy regimes apart. Korea retained its managed competition regime while Japan experienced a regime shift.
---
Book Chapters
"Quiet transformation from the Bottom: Emerging Transnational Coalition of Non-state Actors in East Asia Community Building". In Peter Hayes and Chung-In Moon (eds.) The Future of East Asia, Asia Today. Palgrave Macmillan, Singapore (2018). –PDF Version
If analyses of community-building efforts in Northeast Asia are fixated on the level of the nation-state and the central government, then one fails to capture the complex, transnational integration dynamics that are now vigorously at work in the region contends Seung-Youn Oh in this chapter. Non-state actors—less constrained than national authorities by political tensions and historical legacies—are not only generating a new capacity for regional community-building, they are also strengthening existing forms of regional cooperation. Oh's chapter explores how non-state actors in Northeast Asia in both individual countries and at the regional level serve as transnational constituencies and create regional networks to solve shared problems. Oh pays special attention to the networks and coalitions of non-state actors in China, Japan, and South Korea to assess the opportunities and challenges they face in overcoming the political and historical tensions in one of the least institutionalized regions in the world. Oh argues that issue-based and cross-border civil society collaboration has generated new capacity for strengthening regional cooperation. In the face of pressing domestic developmental challenges in issue areas such as energy insecurity and environmental degradation, Oh examines how non-state actors are relevant to building a regional framework in Northeast Asia as both a normative and rational endeavor.
---
Papers under review
From A Super Spreader of MERS to A Super Stopper Of Covid-19: Explaining the Evolution of South Korea's Public Health Crisis Management System (Revise &Resubmit)
COVID-19 has placed global and national leadership under a serious stress test by threatening lives and livelihoods on an unprecedented scale. The Republic of Korea emerged as one of the first countries to flatten the transmission curve despite its high population density and proximity to China. Korea was able to do so without imposing the aggressive lockdowns or complete travel bans that China and many other countries adopted. This paper explores two questions. First, what kind of institutional and legal foundations explain Korea's strong public health response to the pandemic? Second, from a historical perspective, Korea evaded the worst of the SARS outbreak in 2003 yet failed to replicate the success with MERS in 2015. What explains these fluctuating public health responses within a country and how did this affect Korea's response to COVID-19? This paper argues that Korea's crisis management system developed strategic agility and flexibility in its hierarchical model that allows crisis-friendly partnerships and swift collaboration among key actors to manage public policy challenges. Studying Korea's responses to these three outbreaks will not only contribute to our understanding of cross-national crisis management but also further our comprehension of Korea's evolution in public health response through analyzing intra-national variations.
China's Race to the Top: Regional and Global Implications of China's Industrial Upgrading (Revise &Resubmit)
The paper examines the global and regional implications of China's revitalized state capitalism model through the sectoral lens of the Chinese automotive industry, which stands at the intersection of both traditional and green industrial policy. Starting as a cautious participant in the WTO, China has moved rapidly along the learning curve to skillfully navigate the system and create spaces for its industrial policy objectives to prop up local and national champions. While China's gaming of the WTO system fostered domestic growth in Chinese companies with protections from fierce foreign competitions, key initiatives like the Belt and Road Initiative link purchasing diplomacy with the opening up of overseas markets to develop Chinese players into global champions. In addition to the use of economic leverage to induce positive behaviors, Beijing is increasingly unafraid of resorting to exclusionary diplomacy. This provides political justifications for discrimination against foreign competitors in the Chinese market while moving forward with the industrial upgrading of domestic players. China's state-led capitalism partly contributed to the global turn toward protectionism and Washington's pivot to unilateralism, but it is the Chinese economy that bleeds significantly due to the clouded prospects of further trade liberalization.
Convenient Compliance: How China's Industrial Policy Stays Ahead of WTO Enforcement (Revise &Resubmit)
Through case studies of China's WTO trade disputes in the automobile and wind turbine sectors, I argue that China's compliance with WTO rulings reflects Beijing's skillful navigation through the WTO's dispute-resolution process rather than socialization to international norms. China liberally implements industrial policies and removes them after they come into a dispute at the WTO—strategies that I characterize as "convenient compliance." By the time China removes the challenged measures, it often no longer needs them, since it has already achieved its goals and can still build up a reputation as a responsible WTO member by complying with the organization's rulings. The dynamics of the global supply chain certainly complicate foreign business groups' interests and countries' domestic political calculations regarding trade disputes with China.
---
Papers in Progress
Turning China Fever into China Fear: Sectoral Variations of South Korean Firms' Response to China's Economic Statecraft
Officially 'Unofficial': Proving the Informal Nature of China's Economic Statecraft
The Changing Architecture of Korea Inc.: Korea's Digital New Deal in the Era of Geopolitical Rivalry
Between a Rock and a Hard Place? Understanding Korea's Dilemma between Japanese and Chinese Economic Sanctions through the lens of Semi-Conductor Industry (a book chapter)