Book Project
Varieties of Glocalization: Localization Foreign Capital in the Chinese Auto Industry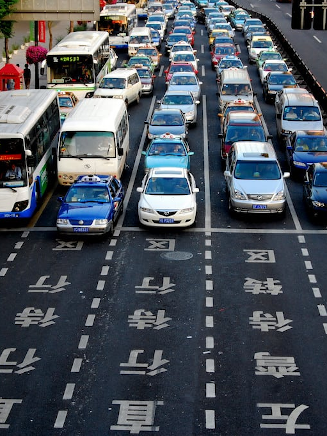 How does an emerging economy like China resolve the conflict between its long legacy of heavy state intervention with the strictures of the WTO? To what extent is the Chinese central government willing and able to create a rule-based economy? How effective are international agreements and multinational corporations in promoting liberalization in emerging economies such as China? What does this tell us about emerging economies' level of compliance with international legal agreements amidst their fragmented economic structures?
---
Journal Articles
"China's Race to the Top: Regional and Global Implications of China's Industrial Upgrading," World Trade Review (February 2021) —PDF Version
The paper examines the global and regional implications of China's revitalized state capitalism model through the sectoral lens of the Chinese automotive industry, which stands at the intersection of both traditional and green industrial policy. At the multinational level, China skillfully facilitates local policy implementation that creates excess capacity by propping up local and national champions through convenient compliance with the WTO. At the bilateral level, China closely links purchasing and coercive diplomacy with protections for Chinese players both at home and abroad. Key endeavors like the Belt and Road Initiative open up overseas markets to develop global champions and secure foreign footholds for Chinese champions. Additionally, China's increasing reliance on exclusionary diplomacy provides political justifications to discriminate against foreign competitors within the Chinese market while moving forward with the industrial upgrading of domestic players. When linked together, these factors – all byproducts of China's approach to state-led capitalism – combine to explain China's efforts to create a race to the top.
"From A 'Super Spreader of MERS' to A 'Super Stopper' Of Covid-19: Explaining the Evolution of South Korea's Public Health Crisis Management System," Journal of Asia Public Policy (December 2020) –PDF Version
COVID-19 has placed global and national leadership under a serious stress test by threatening lives and livelihoods on an unprecedented scale. The Republic of Korea emerged as one of the first countries to flatten the transmission curve despite its high population density and proximity to China. Korea was able to do so without imposing the aggressive lockdowns or complete travel bans that China and many other countries adopted. This paper explores two questions. First, what kind of institutional and legal foundations explain Korea's strong public health response to the pandemic? Second, from a historical perspective, Korea evaded the worst of the SARS outbreak in 2003 yet failed to replicate the success with MERS in 2015. What explains these fluctuating public health responses within a country and how did this affect Korea's response to COVID-19? This paper argues that Korea's crisis management system developed strategic agility and flexibility in its hierarchical model that allows crisis-friendly partnerships and swift collaboration among key actors to manage public policy challenges. Studying Korea's responses to these three outbreaks will not only contribute to our understanding of cross-national crisis management but also further our comprehension of Korea's evolution in public health response through analyzing intra-national variations.
"Old Walled Politics or New Pandemic Peace? Lessons from South Korea's Fight against Covid-19," Global Asia, vol. 16, no. 4 (September 2020), pp.16-22. ––PDF Version
Among the global pandemic's effects is the way it has exposed the re-emergence of medieval-style walled politics, where countries reject international or regional co-operation and retreat into nationalist, go-it-alone approaches. At the same time, the crisis has revealed unusual opportunities to forge common approaches to battling this invisible enemy. South Korea, as a middle power that stood out as an early success story in the pandemic fight, has played an important role in countering the politics of the past.
"Blown Away: How China Outsmarts WTO Rulings in the Wind Industry," Asian Survey, vol. 55, no. 6 (November/ December 2015), pp.1116-1145. –PDF Version
Through a study of China's wind turbine sector, I demonstrate how China liberally implements industrial policies and then removes them after the WTO disputes them—a strategy I characterize as "convenient compliance." This strategy reflects Beijing's realpolitik navigation through the WTO's dispute resolution process rather than socialization to international norms.
"Shifting Gears: Industrial Policy and Automotive Industry after the 2008 Financial Crisis," Business and Politics, vol. 16, no. 4 (December 2014), pp. 641-665. –PDF Version
Apart from being one of the hardest-hit sectors during the 2008 financial crisis, the auto sector is also a prominent sector where emerging auto markets such as China have fared relatively well compared to their competitors in North America and Europe. This paper examines various ways that nations have shifted their policy gears to revive and restructure the automotive industry by using the case studies of the USA, France, and China. New sets of policy initiatives are contingent on particular industrial and institutional contexts, but both developed and developing countries have employed a wide range of "murky" protectionist measures. This makes it unlikely for the WTO member countries to take a naming and shaming approach and file a case at the WTO level, which poses challenges to the WTO rules and trade liberalization.
"Fragmented Liberalization in the Chinese Automotive Industry: The Political Logic behind Beijing Hyundai's Success in the Chinese Market," The China Quarterly, vol. 216 (December 2013), pp. 920-945.  –PDF Version
This paper explains the extraordinary rise of the Beijing Hyundai Motor Company (BHMC), a joint venture between a state-owned enterprise run by the Beijing Municipal government and Hyundai Motor Company. Within the span of three years, the BHMC soared to become China's second-ranked automotive manufacturer in terms of units sold. I highlight the role of the Beijing Municipal government in creating favorable market conditions for the BHMC during its initial operation phase (2002–2005). The Beijing Municipal government selectively adopted protectionist measures and liberalizing measures to promote its locally based company. I characterize this practice as fragmented liberalization, a system through which sub-national governments discriminately apply WTO or Central government regulations to promote their local joint venture partner. In so doing, I also challenge the existing assumption that multinational companies are the drivers of economic liberalization, by showing Hyundai's support for local protectionism and industrial policy at the sub-national level.
"The Political Economies of Broadband Development in Korea and Japan," (with Kenji Kushida) Asian Survey, vol. 47, no. 3 (May/June 2007), pp. 481-504. –PDF Version
South Korea's and Japan's telecommunications sectors developed rapidly, especially in high-speed, low-priced broadband. We argue that both countries are engaged in strategic liberalization, fostering competition to reach specific goals. However, different political dynamics pushed their initially similar policy regimes apart. Korea retained its managed competition regime while Japan experienced a regime shift.
---
Book Chapters
"Navigating the Triple Dilemma: South Korea's Trade Disputes with Neighboring Countries" (forthcoming)
During the past decade, the backlash against globalization and greater pressures from zero-sum geopolitical rivalries have eroded the positive-sum model of global economic interdependence. With intensifying national competition, unilateral trade restrictions and tit-for-tat escalations have increased dramatically. Decisions to frame trade issues as security concerns have led to grave apprehension in Northeast Asia, where mistrust among countries is already elevated. Nowhere is the danger from this heightened nexus between economy and security more palpable than in Seoul, which is living under North Korea's constant nuclear threats and the unresolved shadow of the county's Japanese colonial past. This chapter examines the developing characteristics of contemporary trade disputes and the strategic dilemma facing middle powers in this era of politicized economic interdependence through the lens of South Korea's trade spats since 2016 with its three major trading partners: China, Japan, and the United States. The current era of politicized economic interdependence presents a unique opportunity for South Korea to build internal resilience for preserving the benefits of globalization while addressing the disruption in global supply chains.
Between the Eagle and the Dragon: South Korea's Strategic Dilemma in its Pursuit for Technological Upgrading (forthcoming)
The deteriorating U.S.-China rivalry threatens to end the post-Cold War arrangement that allowed middle-power US allies national security under the US security umbrella, while developing their economies through closer ties with China. These two big powers have competitively launched policy measures rooted in the divisive rhetoric of 'with us or against us,' widening the existing cracks in East Asia due to unresolved history, different regime types, and alliance politics. South Korea serves as a representative example of middle power countries in the Indo-Pacific region, facing mounting geopolitical pressure to choose between the United States, its most important military ally, and China, its largest trading partner. As one of the leading countries in information and communications technology, Seoul now faces the daunting task of upgrading its industrial structure while navigating the looming tensions derived from politicized economic interdependence. This chapter illuminates the ways middle powers address and adapt to the changing regional and global geopolitical landscape by evaluating Seoul's opportunities and challenges for navigating through such an environment.
"Quiet transformation from the Bottom: Emerging Transnational Coalition of Non-state Actors in East Asia Community Building". In Peter Hayes and Chung-In Moon (eds.) The Future of East Asia, Asia Today. Palgrave Macmillan, Singapore (2018). –PDF Version
If analyses of community-building efforts in Northeast Asia are fixated on the level of the nation-state and the central government, then one fails to capture the complex, transnational integration dynamics that are now vigorously at work in the region contends Seung-Youn Oh in this chapter. Non-state actors—less constrained than national authorities by political tensions and historical legacies—are not only generating a new capacity for regional community-building, they are also strengthening existing forms of regional cooperation. Oh's chapter explores how non-state actors in Northeast Asia in both individual countries and at the regional level serve as transnational constituencies and create regional networks to solve shared problems. Oh pays special attention to the networks and coalitions of non-state actors in China, Japan, and South Korea to assess the opportunities and challenges they face in overcoming the political and historical tensions in one of the least institutionalized regions in the world. Oh argues that issue-based and cross-border civil society collaboration has generated a new capacity for strengthening regional cooperation. In the face of pressing domestic developmental challenges in issue areas such as energy insecurity and environmental degradation, Oh examines how non-state actors are relevant to building a regional framework in Northeast Asia as both a normative and rational endeavor.
Book Reviews
"The Belt Road and Beyond: State-Mobilized Globalization in China" by Min Ye and "Shaping the Future of Power: Knowledge Production and Network-Building in China-Africa Relations" by Lina Benabdallah, Perspectives on Politics, 19(4), 1380-1382 (December 2021).
---
Papers in Progress
Officially 'Unofficial': Proving the Informal Nature of China's Economic Statecraft (with Haohan Chen)
Doing Business as Usual? China's Economic Coercion and Impact on Foreign Businesses." Draft under preparation for a conference Great Power Competition in the 21st Century: The Struggle for Technological, Economic, and Strategic Supremacy
Revitalized Tools for Economic Statecraft: Vertical Industrial Policy in the Context of Global Power Competition. Draft under preparation for a book chapter in the Oxford Handbook of Geoeconomics.
Turning China Fever into China Fear: Sectoral Variations of South Korean Firms' Responses to China's Economic Statecraft
The Changing Architecture of Korea Inc.: South Korea's Strategic Dilemma in its Pursuit for Technological Upgrading." Draft under revision for a conference Geo-Economic Competition in the Indo-Pacific