Public Writings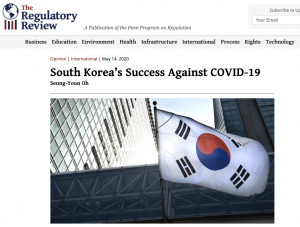 Old Walled Politics or New Pandemic Peace? Lessons from South Korea's Fight against Covid-19, Global Asia (to be published in September)
South Korea's Success Against COVID-19, Online Symposium on Comparing Nations' Responses to COVID-19, The Regulatory Review, May 14, 2020.
Brace Yourself for the New Normal: One Year into the U.S. -China Trade Dispute, China-US Focus, August 2, 2019.
China's Reform and Opening: 40 Years and Counting, The Diplomat, June Issue, 2018.
"Learning to Navigate Quickly and Successfully: The Benefits of Working with a Student Consultant," Teaching and Learning Together in Higher Education, 11th Issue, 2014.
Interview with TV
"Global Trade War," Global with Matthew Amroliwala, BBC World News, June 27, 2019.
Interview with Printed Media
"We Must Learn from Our Past: A look at past outbreaks offers guidance on bringing the curre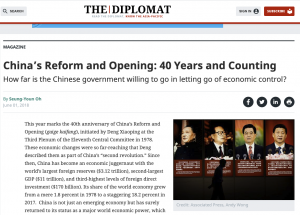 nt one to an end – and on thwarting the next one," the University of California in San Francisco Magazine, July 23, 2020.
"Will Donald Trump's trade crusade ultimately benefit Southeast Asia?," South China Morning Post, July 20, 2019.
 "The Spoils of Trade War: Asia's Winners and Losers in US-China Clash," South China Morning Post, May 18, 2019.
 "Why Is the Sun Setting on China's Solar Power Industry?," Knowledge@Wharton, June 5, 2013.
Appeared
"Why MBAs Traveled to South Korea for a Global Immersion Program," Wharton Alumni News, July 26, 2018.